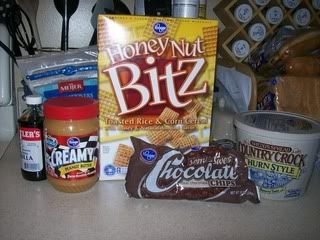 1 Box (10 cups) of Chex or Crispix (Any flavor)
1 cup semisweet chocolate chips
1/2 cup peanut butter
1/4 cup butter or margarine
1 teaspoon vanilla
1 1/2 cups powdered sugar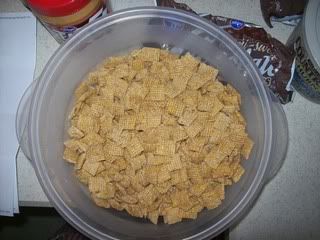 1. Into large bowl, measure cereal; set aside.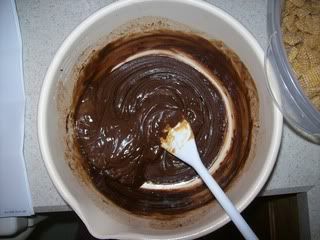 2. In 1-quart microwavable bowl, stir together chocolate chips, peanut butter and butter. Microwave uncovered on High 1 minute; stir. Microwave about 30 seconds longer or until mixture can be stirred smooth. Stir in vanilla. Pour mixture over cereal, stirring until evenly coated. Pour into 2-gallon resealable food-storage plastic bag.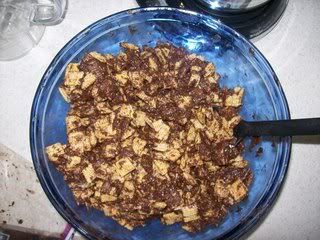 3. Add powdered sugar. Seal bag; shake until well coated. Spread on waxed paper to cool. Store in airtight container in refrigerator.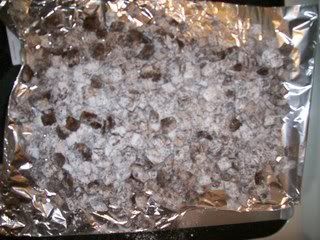 I think it came out okay. Vince seems to really like it! I may need to have the chocolate mix melt a bit more before adding it to the cereal. It starts to thicken really quick, which made it a bit more difficult to stir it into the cereal without the cereal breaking. So next time I'll make sure it's a lot smoother, and thinner, before adding it.
Oooh and yes I have a new LJ for my cooking attempts...
saracancook
(ha, but not really).
I decided to try my hand at making Puppy Chow (this goes by different names but it's what I've always known it as...) Anyway! Here's what I did: